Elf (Live June 10, 1973)
Rockin' Chair Rockin' Roll Blues
Hoochie Koochie Lady
Elf - Live At the Bank (1972)
(Not all of these songs are live - some are studio recordings)
Wakeup Sunshine
Smile For Me Lady
Rosemarie
You Felt The Same Way
Driftin
Saturday Night
Crosseyed Mary
Stay With Me
Little Queenie Medley
An Old Raincoat Won't Ever Let You Down
Cold Ramona
Black Dog
Lura Lura
Four Day Creep
Give Me A Chance
Nameless Instrumental
Aqualung
Drown Me In The River
Simple Man
Won't Get Fooled Again/Baba O'Riley Medley
Pisces Apple Lady
Dirty Dollar Bill
Buckingham Blues
So Long
You Shook Me-Rocks Boogie
War Pigs
Lyrics from Live at the Bank
Bonus Tracks:
Love Me Like a Woman
Stone Cold Fever
Behind Blue Eyes
Sit Down Honey (Rehearsal w/Mark Nauseef on drums)
Elf
Hoochie Koochie Lady
First Avenue
Never More
I'm Coming Back For You
Sit Down Honey
Dixie Lee Junction
Love Me Like A Woman
Gambler, Gambler
Lyrics from Elf
Carolina County Ball (L.A. 59)
Carolina County Ball
L.A.59
Ain't It All Amusing
Happy
Annie New Orleans
Rocking Chair Rock 'N' Roll Blues
Rainbow
Do The Same Thing
Blanche
Lyrics from L.A. 59
Trying To Burn the Sun
Black Swampy Water
Prentice Wood
When She Smiles
Good Time Music
Liberty Road
Shotgun Boogie
Wonderworld
Streetwalker
Lyrics from Trying to Burn the Sun
My Thoughts



The first three Elf albums, in order from left to right.
Elf Live
I'm not sure what it was between the end of The Elves and the beginning of Elf that made such a difference in their music, but whatever it was, it was the right thing. I, personally, chalk it up to the hiring of Mickey Lee Soule, whose piano work on Elf is nothing short of amazing. Regardless, the three or four years of Elf's existence is, in my opinion, Ronnie Dio's shining moment.
These first two live tracks were recorded in 1972, the same year their first LP was released. I don't know which occured first. You should note that Rockin' Chair Rockin' Roll Blues was not used until Carolina County Ball two years later. This live version is quite a bit different, and I think inferior to the later studio release, but you get a sense of the brilliance that is to come. Hoochie Koochie Lady, also included in the first LP the same year, is a fantastic live performance. The highlight of the performance would have to be Mickey Lee Soule. I'm sorry, but I just dig that guy.
Elf (1st LP)
I had been listening to Elf's second and third LPs for quite some time before I finally tracked down the first. (I found the last two albums in early 1990, the first about a year later) This LP is much more raw than the next two, but still shows flashes of what is to come. The strongest tracks are, in my opinion, Hoochie Koochie Lady and Dixie Lee Junction. Love Me Like a Woman, Sit Down Honey, and First Avenue are also very well done.
Though inferior to the following albums, Elf is still a great album. It is a culmination of everything Dio had done up to that point and a launching pad for the rest. Perhaps a bit transitional, it needed to be recorded, and justifiably so. As you listen to the next two LPs, it is easy to see how Ronnie built on their first release.
Carolina County Ball

Carolina County Ball, released in the U.S. as L.A.59, is a fantastic album. The band took what they accomplished with their first LP and smoothed the rough edges. Some of the tracks, in fact, severely digress from the more obvious rock styles in the rest of the tracks, particularly Happy and Blanche, which are kind of Rock versions of Raindrops Keep Falling On My Head (figuratively, not literally). Both tracks are great. The album as a whole is much more upbeat than the first.

The first track, Carolina County Ball, is a perfect blend of Rock and Jazz. The horn section (which is only on this track) adds a whole element to the song that puts it above most others. I have never heard whether Ronnie plays horns on that song or not, but it wouldn't surprise me. The second track, L.A.59 features some awesome piano and a great rythym. Those two, along with Rockin' Chair Rockin' Roll Blues, are among the album's strongest tracks.

Trying To Burn The Sun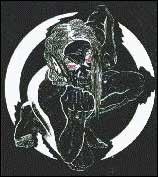 This LP is the culmination of Ronnie's career. It is a perfect blend of Rock, Jazz, and Blues, and is by far his strongest album. Unfortunately, it is Ronnie's most overlooked release. It was released the same year that Elf, minus their guitarist, recorded Ritchie Blackmore's Rainbow. It was rumored that Blackmore played some of Trying To Burn The Sun, but no one has been able to confirm it. Some say that the two albums are very similar. I disagree. I happen to love the first Rainbow album, but it is missing a very important aspect found in Elf. Though Mickey Lee Soule does play on Rainbow, his Jazz piano style is missing, losing much of the obvious Jazz style that makes Elf so great.

Whenever songs from Trying To Burn The Sun are singled out, it's usually Wonderworld. While this is a great ballad, I think Streetwalker is a more impressive song. Almost epic. Of course, it's hard to beat Shotgun Boogie, a quick, jazz infested tune that leaves you amazed. Once again, Mickey's piano solo will blow you away. There really isn't a bad song on this album. If anyone disagrees, please feel free to let me know.

Side Projects



Sometime during the final two Elf albums (release in consecutive years), Roger Glover, producer of Elf, invited Ronnie Dio and Mickey Lee Soule to join him for The Butterfly Ball and the Grasshopper Feast. Ronnie sings three tracks, Sitting In a Dream, Love Is All (the hit single from the album), and Homeward. Mickey, incidentally, sings one song: No Solution. The two also co-wrote two other tracks with Glover. Joining these two are other great rockers, like David Coverdale (Whitesnake) and Glenn Hughes (Black Sabbath).

I have found a lot of enjoyment out of this album, which had a full-length animated film produced in conjunction. The album, based on a children's book, is nothing like you've ever heard from Rock musicians. However, the writing and performances are top-notch and fun to listen to.